Francis of Assisi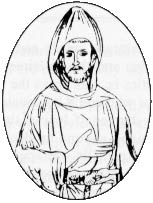 1184 – 1226
"Horse manure," the little man snorted mischievously. "That's all it is!"
No one doubts the value of horse manure. It is certainly more effective than chemical fertilizers. But what sane person hugs it to himself, spends his life amassing it, and glories in what he has managed to hoard? "Horse manure" summed up Francis's attitude to money.
Yet we must not think Francis a sour-faced ascetic. On the contrary, few people have radiated greater joy, for few people have found greater pleasure in the riches of God's creation. The birds and the animals, the trees and flowers, the sunshine – even the pleasure of falling contentedly asleep from day's end tiredness – all these to him were tokens of the love God floods upon people without distinction.
At the same time Francis was not the nature-mystic of poplar exaggeration. He was an evangelist. He lived only to declare and exemplify the good news of God's mercy and patience in Jesus Christ. Everything about him served this calling. His plain dress, sparse diet and transparent simplicity did not, in his view, point to the heroism of extraordinary self-renunciation, but rather to the common sense of the ordinary person who knows that a suit of armour doesn't help a swimmer, nor alligator shoes a mountain-climber.
Francis Bernardone was born in the Italian city of Assisi. His father was a prosperous clothing merchant who fostered in his son an appreciation for French literature, music and theatre. Francis became the fashion-piece of Assisi, and the acclaimed leader of the wealthy young aristocrats. At parties he was given the title "master of revels"; he was the party-animator who could be counted on to liven things up if the carousing was in danger of losing steam. Snobbish beyond imagining, Francis disdained anyone he deemed his social inferior, and singled out lepers as especially contemptible. He fancied himself becoming a French poet or a decorated soldier.
Having had a vision of two swords forming a cross, Francis zealously pursued military training, boasting he would one day be honoured as a prince. Alas, his health proved far too fragile in the face of the rigours of soldiering, and he returned from the military campaign humiliated. Plainly he had misinterpreted the vision.
Crushed, Francis began to pray in a dilapidated church. Soon he had another vision, this one accompanied by the words, "Restore my Church." In order to refurbish the run-down building he naively began selling off his father's cloth. His father had him jailed as a thief. Ordered by the court to make restitution, he reacted in a manner as unselfconscious as it was dramatic; he stripped off his clothes, piled them on the floor, placed his money on top, and announced to his father that from that moment on God alone would be addressed "Father."
Together with the "friars minor" he attracted to himself, Francis became "God's troubadour." Troubadours were a school of poets from the south of France who wrote and sang loftily and light-heartedly of lady-love. They good-naturedly exposed materialistic grasping as unworthy – even impossible – of those who are intoxicated with the one they love.
Francis loved God. He adored the one who had rescued him from flashy frivolity. He came to cherish his neighbor, particularly the suffering neighbor – even, now, the leper. Through his work on behalf of the needy, the suffering, the victimized, the incurably ill, it was said o him that he did what no social welfare scheme, however necessary and effective, could ever do: he gave broken people back their self-respect.
Reading scripture through eyes unaffected by hoarding, Francis could hear that aspect of the Word to which our acquisitive modern age remains deaf. So far from trying to dodge or dilute the Master's teaching, he welcomed it as truth that liberates its hearers and renders them citizens of a new country. "No one can serve two master," Jesus had said, "for either you are mastered by God or you are mastered by money" (Matt.6:24).
Rejoicing in the company of his Lord, and finding his security there, he throbbed with the conviction o the first Christians: "You joyfully accepted the plundering of your property, since you knew that you yourselves had a better possession and an abiding one" (Heb.10:34). Attuned to the itinerant Nazarene evangelist himself, Francis knew that the New Testament consistently points to money as the greatest spiritual threat of all. (In the first three gospels one verse in ten has to do with money; in Luke one in eight; in the Epistle of James, one in five.)
Yet in all this, his calling in the end was not to poverty but to penitence, for from penitence came forgiveness, joy and reconciliation. He knew that the gospel can and will melt the sin-hardened heart, satisfy the nameless longing, cheer the dispirited, and crumble the walls of hostility. He knew, in a word, that the gospel will brighten everything through the glow of those who know themselves welcomed home. He possessed few of this world's goods only because he wanted to testify to his being possessed by the gospel alone.
In 1225 Francis went blind. A white-hot iron was applied to his face from jaw to eyebrow in order to "open the veins" and restore sight. The other friars fled the room, unable to endure the horror. Not surprisingly, within a few months Francis was mortally ill. He wanted no shrine in his honour, no fuss made of him as though he had done something extraordinary. Gathering this friars around him, he undressed. Then he lowered himself upon the bare earth. "As soon as my spirit has left my body," he instructed them, "speak of me only for as long as it would take a man to walk a mile." For twenty minutes, then, his friends did nothing except recall the witness of him, who, like so many other noble Christians, is now buried we know not where, and whose work in the Lord is the only monument they shall ever need.